Everyone needs a little extra energy to make it through the day. However, the energy drink market is plagued with a bad reputation for containing unhealthy ingredients in their drinks. Plus, most energy drinks leave people feeling worse than before, crashing a few hours after drinking.
Krush Energy Drink saw an opportunity, and created a formula for a clean, all natural energy drink that would stand out from the competition. However, all they had was an idea, a name, and a logo from Fiverr. Oh, and a commercial booked with NFL star Maxx Crosby from the Las Vegas Raiders.
We were approached in 2019 by Krush Energy Drink to develop their initial brand from the ground up. This meant a re-design of their packaging, development of their Go-To-Market strategy, design and development of their website, and initial marketing strategy after launch.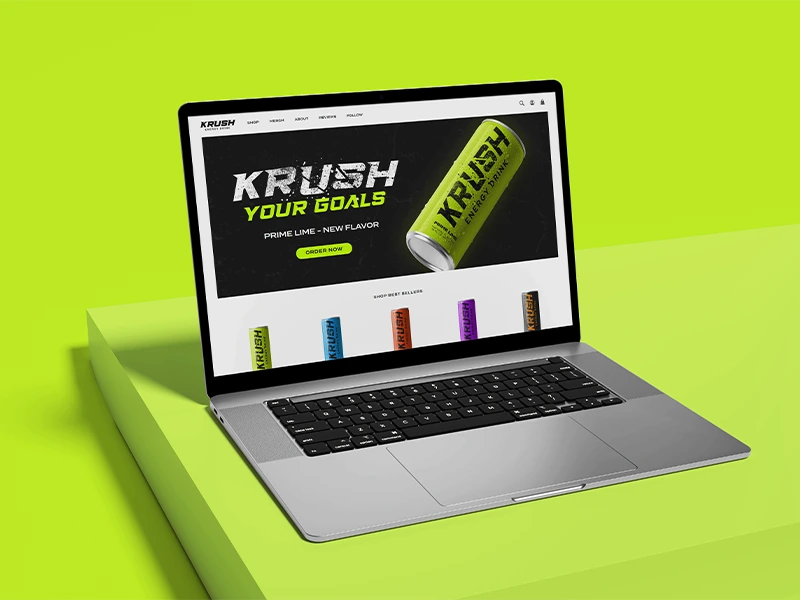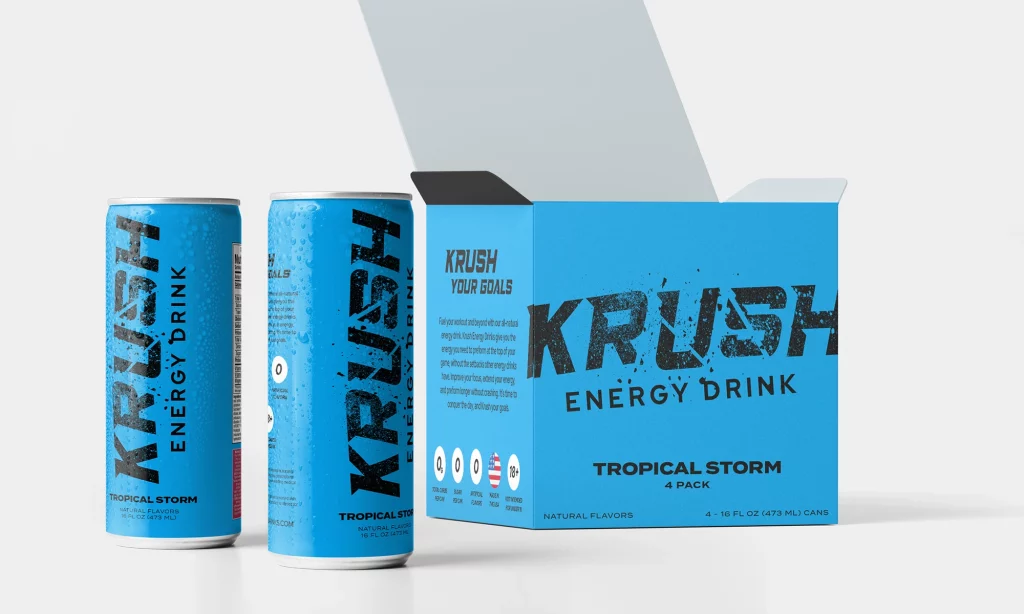 We first started by conducting an in-depth market analysis on the heavily saturated energy drink market. Dozens of brands from different companies made our initial strategy difficult. However, these brands all had one thing in common: their visuals were very complex.
The core value of Krush was to offer a healthy energizing drink that boosted energy without crashing. This was accomplished by eliminating many ingredients found in competitor's drinks. Using this unique characteristic, we designed a minimalistic, millennial focused brand for their product.
The original Krush logo was designed for more of a energized, gym focused brand. It didn't fit the new strategy well, so we opted for a simple type logo. This also worked well during our packaging design, because when placed vertically on the can, people could "Krush" the can once finished, giving them a sense of accomplishment.
After finalizing the branding, we designed a sleek, minimalistic e-commerce experience for their initial launch. Again focusing on minimalism, their site stood out from the competitors by featuring much more white space, both to support the cleanness of their product, and allow the flavor colors to pop.
Launching in September of 2019, we launched with a strong influencer marketing campaign, reaching out to other athletes and health focused accounts to promote the drink. We also focused heavily on SEO for the initial site, to rank for "Clean Energy Drink".
Our initial efforts were a huge success, and helped Krush land a wholesale deal to feature their products in stores across the United States. 
Driving results through creativity and strategy.